INTRODUCTION
Our ultimate goal is to make heaven by living a righteous life and to take as many people with us as is possible. Whether you live in or are visiting Plumstead and the surrounding areas, we invite you to come and fellowship with us and we look forward to welcoming you.
One thing is guaranteed when you join us… how you arrive is your business but how you leave will indeed become God's business!
We have services in the main sanctuary every Sunday, Wednesday and Friday with creche services available on Sundays. Please review the information on this website for more details about our services, including Worship, Thanksgiving, Watchnight, Prayer & Fasting and Youth services. Regular announcements are also posted on this site along with Sermon Summaries and Bible Study highlights.
If you are engaged in Social Media, you can also link up with us on Facebook and Twitter to be updated of all our events. Finally, before you leave this site, why not sign up for our bi-monthly newsletter which is circulated to all subscribed members.
SERVE GOD
Where Can I Serve?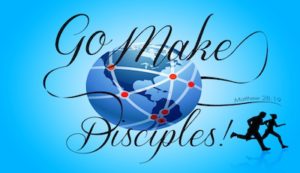 Jesus Christ told us, his disciples, to make disciples of all nations. In line with our ultimate goal to make heaven and to take as many people with us as is possible, the most important values of this church is our mission to the world. It begins in our own community, and spreads overseas to every nation. Church members are involved in a variety of ministries from things as simple as cleaning the church environment, to taking a class in Sunday school. The following are some of our ministries and departments.
---
Ministries
Mission Outreach
We are an extension of the Redeemed Christian Church of God (RCCG). Our ultimate goal is to make and to take as many people with us as is possible, therefore we are active in sending out missionaries and supporting these missionaries with our money and our prayers. We encourage all of our people to respond to God's call for laborers, whether it means that they move to a foreign country or live and minister in our own community.
Music & Drama
God-honoring worship is something we strive for. Many church members get involved in our music and drama ministry. Some play their instruments. Some are vocalists. Others are involved in the choir. Still others get involved in drama. These volunteers are an important part of the ministry of our church, using their talents and gifts to glorify God.
Media & Technology
Using media to spread the gospel is a privilege of this church. In an age of widespread technology, we have a stewardship to use these tools as best as possible for kingdom purposes. All of our weekly sermons are uploaded to our website in video and audio formats. We also maintain an active Facebook group and Twitter feed. Finally, we have a bi-monthly newsletter which is circulated to all subscribers for additional church communication.
Prayer Warriors
Pray without ceasing is our guide as commanded in the Bible. Prayer moves the hand of God. Our Church is a body of believers dependent upon prayer, and committed to God's sovereignty. We have volunteers from our Prayer Warriors team pray for their pastor, a list of church members, any special requests, and missionary prayer needs. Every Friday, we comes together for a special time of prayer and on the first 3 days of the month for our Fast and Prayer meeting.
Children and Youth Ministry
Each Sunday morning, children get to participate in their own classes. Bible lessons are taught in such a way that every child gets to participate and learn. Each of the class teachers is carefully screened and thoroughly trained in children's instruction. The youth ministry of our church is recognized for their meaningful interaction with kids.
Counseling
Counseling are important in our daily life, work, education, career, and marriage related issues are example of where we offer counseling. Marriages can be difficult to maintain. Misunderstanding, confusion, resentment, and anger can flare up in any marriage. Several couples at our church serve other families as marriage counselors. Their role in listening, understanding, helping, and encouraging struggling couples has, by God's grace, saved marriages, and repaired relationships. Couples have found fresh hope and new joy in a warm and fulfilling relationship with their spouse.
---
Our Departments
Men's Group
Mighty Men! We are standing with you. Get involved in our men's group activities for family development and growth. This group is open to all married men, both young and adult.
Sunday School
Our Sunday school department are responsible for taking classes on Sunday's school services every Sunday by 10:30AM.
Youth Service
Our youth services occur alongside our regular main services each Sunday at the Youth church arena beside the main auditorium
Bible Study
Our Success School which is our Bible study service takes place on Wednesday evening at 7:00pm. We are usually engaged in In-depth studying and teaching of the Bible, this is usually interactive and spirit filled.
Child Care
We provide childcare during all services at the church. Feel free to volunteer! 
Wisdom Groups
The Wisdom group is for our elders, members both men and women from the age of 50 and above are expected to join the group. Join this fellowship group for great wisdom.
Choir and Worship Team
Musical? Good voice? Feeling called to be part of the worship team? Let's do this!
Discipleship Program
Our discipleship training program is the perfect platform for leadership stewarding.
Community Social Responsibility
We have a responsibility to make a social difference in our community, our welfare department is involved in taking care of the homeless, engaged in social services and work directly with various outreach to look after children. 
---